Important Dates
11-Mar-2008 | Registration Opens

20-Apr-2008 | Registration Closes

01-May-2008 | Notification of Acceptance

30-May-2008 | Deadline for Payment of Registration

06-Jul-2008 | Arrival of Participants

07-Jul-2008 | Start of Event

12-Jul-2008 | End of event
Semantic Web, Ontology, Semantic Web Services
News
Registration is now closed
Technologies
Directors of the School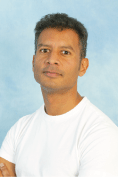 John Domingue
(Director)
John Domingue is the Deputy Director of the Knowledge Media Institute at The Open University, UK. He has published over 100 refereed articles in the areas of semantic Web services, semantic web, ontologies and human computer interaction. Up until last year he was the Scientific Director of DIP an EU Integrated Project (IP) on semantic Web services which involved 17 partners and had a budget of 16M Euros. Also last year he Chaired the European Semantic Web conference. Currently he is the Scientific Director of SUPER another EU IP which unites semantic Web services and business process modeling. Prof. Domingue also currently sits on the Steering Committee for the European Semantic Conference Series, is a co-Chair of the WSMO working group and a co-Chair of the OASIS Semantic Execution Environment Technical committee.
Website
|
Email
Asun Gomez-Perez
(Co-Director)
Prof. Asunción Gómez-Pérez is Professor at the Univ. Politécnica de Madrid and director or the OEG at UPM. She has a B.A. in Computer Science (1990), M.S.C. on Knowledge Engineering (1991), Ph.D. in Computer Sciences (1993) and MS.C. on Business Administration (1994). She was visiting (1994-1995) the Knowledge Systems Laboratory at Stanford University. She also was the Executive Director (1995-1998) of the Artificial Intelligent Laboratory at the School.
The most representative projects she is participating are: SEEMP (FP6-23747), NeOn (FP6-027595), OntoGrid (FP6-511513) as project coordinator, Knowledge Web NoE (Fp6-507482) acting as Scientific Vice-director, Esperonto (IST-2001-34373), the OntoWeb (IST-2000-25056) thematic network, and also the MKBEEM (IST-1999-10589) project.
She has published more than 150 papers on the above issues. She has led several national and international projects related with ontologies and the semantic web funded by various institutions and/or companies related. She is author of one book on Ontological Engineering and co-author of a book on Knowledge Engineering.
She has been codirector of the summer school on Ontological Engineering and the Semantic Web in 2003, 2004, 2005, 2006 and 2007. She was program chair of ESWC'05 and was of EKAW'02. She has been co-organizer of the workshops and conferences on ontologies at ECAI-04, IJCAI-03, ECAI-02, IJCAI-01, ECAI-00, IJCAI-99, ECAI-98, SSS-97 and ECAI-96. She has tought tutorials on Ontological Engineering at the summer schools.
Website
|
Email