Grassroots initiated networked communities: a viable method of overcoming multiple digital inequalities within communities of locality?
This event took place on Monday 19 April 2004 at 12:30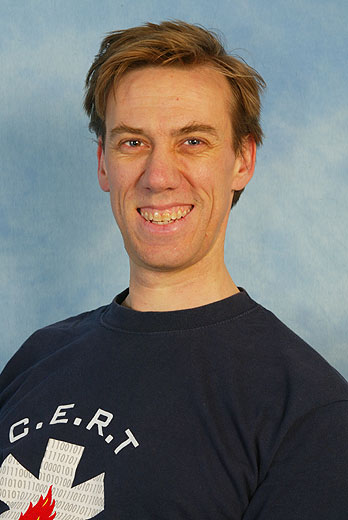 Mark Gaved
The UK government seeks to overcome the 'digital divide', and offering "internet access for all who want it" by 2005. It is unlikely, however, that this will be achieved through government funded interventions focussing primarily on achieving physical access to the internet. My research considers that a possible solution may be found in the emerging phenomenon of grassroots initiated networked communities. These are communities of locality that have developed their own internet and/or intranet infrastructure with minimal external support.
The first year of research was chiefly concerned with investigating issues surrounding the digital divide, technology adoption and sustainability. The initial findings will be presented, and the second year research introduced. In my second year I will be focussing on social software; considering whether web based collaborative tools can support the sustained development of networked communities.
Download PowerPoint Presentation (1Mb ZIP file)
Future Internet is...
With over a billion users, today's Internet is arguably the most successful human artifact ever created. The Internet's physical infrastructure, software, and content now play an integral part of the lives of everyone on the planet, whether they interact with it directly or not. Now nearing its fifth decade, the Internet has shown remarkable resilience and flexibility in the face of ever increasing numbers of users, data volume, and changing usage patterns, but faces growing challenges in meetings the needs of our knowledge society. Globally, many major initiatives are underway to address the need for more scientific research, physical infrastructure investment, better education, and better utilisation of the Internet. Within Japan, USA and Europe major new initiatives have begun in the area.
To succeed the Future Internet will need to address a number of cross-cutting challenges including:


Scalability in the face of peer-to-peer traffic, decentralisation, and increased openness


Trust when government, medical, financial, personal data are increasingly trusted to the cloud, and middleware will increasingly use dynamic service selection


Interoperability of semantic data and metadata, and of services which will be dynamically orchestrated


Pervasive usability for users of mobile devices, different languages, cultures and physical abilities


Mobility for users who expect a seamless experience across spaces, devices, and velocities


Check out these
Hot Future Internet
Projects:
List all Future Internet Projects
---
Check out these
Hot Future Internet
Technologies:
List all Future Internet Technologies