The Knowledge Media Institute (KMi) was set up in 1995 in recognition of the need for The Open University to be at the forefront of research and development in a convergence of areas that impacted on the OU's very nature: Cognitive and Learning Sciences, Artificial Intelligence and Semantic Technologies, and Multimedia. We chose to call this convergence Knowledge Media.
Showcase
People

I am currently a PhD student who's thesis title is "Telling Life Stories from Social Media Content". The approach I am taking looks at identifying and categorising events from a persons...
I have been with KMi since May 2000, when I joined as a work experience student and then got involved in the CLUTCH project. I now work as a lead developer, where I build and maintain KMi's...
Publications
Daga, E., d'Aquin, M., Gangemi, A. and Motta, E. (2015) Propagation of Policies in Rich Data Flows, 8th International Conference on Knowledge Capture (K-CAP 2015), Palisades, NY, USA
Future Seminars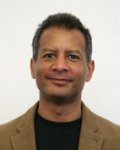 This event will take place on Wednesday 14 October 2015
Prof John Domingue - KMi, The Open University
Forging Online Education through FIRE (FORGE) is a project bringing the FIRE and eLearning worlds together. FORGE aligns FIRE (Future Internet Research and...