| | | |
| --- | --- | --- |
| OneSpace | is collocated with | |
Motivation
The Internet constantly challenges our notions of place and space, and we believe that a cross-domain exploration of this process is needed to understand its evolution.

Indeed one of the most important effects of the Internet has been to relax spatial and temporal constraints, contributing to the modern "space-time collapse", by allowing quasi instantaneous access to information, services, and even physical resources. However, the multiplication of services and the democratisation of GPS based technologies introduce both the possibility and the need of a more location-oriented access to the virtual spaces that constitute the Internet.

Moreover, the Internet familiarised us with new topologies which have become the model of many new forms of organization: the self-organizing rhizomic network of the World wide Web challenging hierarchies, P2P networks of devices that create dynamic semi-private subspaces and communities, new forms of proximity based on micro-blogging and social networks, as well sensor and controller nets establishing ubiquitous access, sensing and interaction.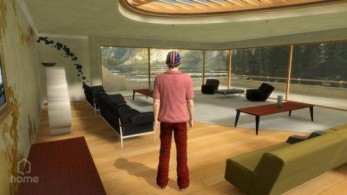 PS3
"Home"
virtual environment

Furthermore, virtual worlds such as World of Warcraft or Second Life are attracting an increasing number of users, while second generation Web mapping technologies and virtual globes contribute to blur the boundaries between spatial representation and perception by providing mashup opportunities, photorealism, visual navigation, and three-dimensional representations.

OneSpace aims to present high-quality papers about the identification and study of the complex relationship of the Internet with space, place, geography and distance, whether physical or virtual. Technologies as well as novel ideas, experiments, and insights originating from multi-disciplinary viewpoints, including humanities, social sciences and mathematics are welcome.

Program
9:00-9:30
Welcome and Introduction to the Workshop
- Vlad Tanasescu, Arno Scharl
9:30-10:00
Media Watch on Climate Change: Sustainability and the Geospatial Web
- Arno Scharl
10:00-10:30
A Sketch of an Ontology of Spaces
- Pierre Grenon
10:30-11:00
COFFEE
11:00-11:30
Challenging the Internet of the Future with Urban Computing
- *Emanuele Della Valle*, Irene Celino, Kono Kim, Zhisheng Huang, Volker Tresp, Werner Hauptmann and Yi Huang
11:30-12:00
Spatiotemporal Metaphors and Internet Technologies
- Vlad Tanasescu
12:30-14:00
LUNCH
14:00-14:30
Walking on the Web: Combining User-driven Location Mapping and Mobile Visualization
- *Matthias Baldauf* and Peter Froehlich
14:30-15:00
An Adaptive GIS Tool for Image Characterisation
- Georgios Sakellariou
15:00-15:30
The Humanities, the Classroom and the Internet
- *Barton Thurber* and Jack Pope
15:30-16:00
COFFEE
16:00-16:30
MOSS: Mobile Social Spaces
- *Anna V. Zhdanova*, Marcin Davies, Oliver Jorns, Vera Stavroulaki, Panagiotis Demestichas, Marta Gonzalez, Klaus Moessner, Francois Carrez, Hariharan Rajasekaran and Luigi Lo Iacono
16:30-17:00
Wrap-up and conclusions
Topics
Study and Representation of physical/virtual spaces and topologies
3D and 4D Internet
Geo-located services and sensors
Internet based Sense of Place and Presence
Second generation Web mapping applications
Mobility and ubiquity
Visibility and privacy in the Internet of people and things
Organization
Vlad Tanasescu
- The Open University, UK
Arno Scharl
- MODUL University Vienna, Austria
Erik Wilde
- UC Berkeley, California, USA
Committee
Andrew U. Frank
- Technical University Vienna, Austria
Catherine Dolbear
- Ordnance Survey Research Labs, UK
Marc Wick
- GeoNames.org, Switzerland
Ren Reynolds
- TerraNova.blogs.com, UK
Dumitru Roman
- STI Innsbruck, Austria
Stefan Dietze
- The Open University, UK
Susanne Boll
- University of Oldenburg, Germany
Hans W. Guesgen
- Massey University, New Zealand
Marie-Kristina Thomson
- University College London, UK
Vedran Sabol
- Know-Center, Austria
Pierre Grenon
- The Open University, UK
Vinny Reynolds
- DERI Galway, Ireland
Location (updated):
Museumsquartier
, Museumsplatz 1/5, 1070 Vienna, Austria
Important Dates (new):
28.08.2008
Paper Submission
05.09.2008
Paper Notification
12.09.2008
Camera Ready
28.09.2008
Workshop in Vienna
Submit:
Short position papers (max
4 pages
) and longer technical papers (not exceeding
10 pages
), both following the
LNCS style
.
Submission URL
.
Contact
onespace2008