You can subscribe as podcasts:

RSS
|

iTunes
|

Miro
Or you can download the slides individually as below:
---
Recordings were made and encoded by Barry Norton.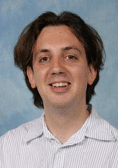 Barry Norton
is a Research Fellow in Semantic Web Services at the Knowledge Media Institute of the Open University. He has delivered several tutorials on Semantic Web Services and Semantic Business Process Management at major events, and is the co-founder of the Young Researchers Workshop on Service-Oriented Computing. His research interests concern process models and behavioural reasoning, and he has been involved in several major projects including Dot.Kom, AKT, Lyrics, DIP and SUPER. He is an active member of the STI Conceptual Models for Services working group, formerly the WSMO working group, and of the OASIS Semantic Execution Environment technical committee.