News Story
COMRADES goes to Nepal
Rachel Coignac-Smith, Tuesday 28 February 2017 |
Annotate
COMRADES project, along with the Nepalese Centre for Integrated Emergency Management (CIEM), organised a very successful workshop in Kathmandu, attended by local community leaders, NGOs, government officials, and even the Prime Minister of Nepal, Mr Pushpa Kamal Dahal.
The workshop was on ''Collective Awareness Platforms for Sustainability and Social Innovation for Making Crises Resilient Community", and was aimed at connecting with stakeholder communities, to better understand their socio-technical requirements for disaster communication and management tools and processes.
Kenny Meesters from the University of Agder, who led the COMRADES workshop, says that "Our task is to capture and build on the best practices in the communities rather than deliver a technological platform with no connection to their own practices". Focus groups and interviews were orgnised with over 150 people in Kathmandu and in remote areas of Nepal.
The event was well covered by the media in Nepal, constituting an excellent dissemination activity for the project, and a unique opportunity to ensure that the technologies developed in COMRADES fit the needs of the local end-user communities.
COMRADES is a €2 million European H2020 project, co-ordinated by Prof Harith Alani from the Open University, and involves the University of Sheffield, University of Agder (Norway), iHub (Kenya), and Gov2U (Belgium).
Related Links:
Connected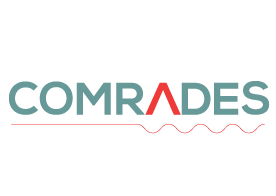 Latest News