The Knowledge Media Institute (KMi) was set up in 1995 in recognition of the need for The Open University to be at the forefront of research and development in a convergence of areas that impacted on the OU's very nature: Cognitive and Learning Sciences, Artificial Intelligence and Semantic Technologies, and Multimedia. We chose to call this convergence Knowledge Media.
Showcase
People
My research focuses on the socio-technical factors influencing the design and uptake of Collective Intelligence infrastructures. These are online environments which seek to improve collective...

Working with Peter Scott on FP7 projects in Technology Enhanced Learning: - mainly ROLE (Responsive Open Learning Environments) - also occasional ad hoc contributions to the TEL network of...
Publications
Daga, E., d'Aquin, M., Gangemi, A. and Motta, E. (2015) Propagation of Policies in Rich Data Flows, 8th International Conference on Knowledge Capture (K-CAP 2015), Palisades, NY, USA
Future Seminars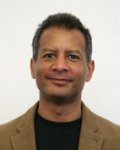 This event will take place on Wednesday 14 October 2015
Prof John Domingue - KMi, The Open University
Forging Online Education through FIRE (FORGE) is a project bringing the FIRE and eLearning worlds together. FORGE aligns FIRE (Future Internet Research and...