KMi is a multidisciplinary R&D lab that has been at the forefront of innovation for the past 20 years. We lead in a number of areas, including Semantic Technologies, Educational Media, Social Media Analysis, Big Data, Smart Cities, IoT and others.
Showcase
People

I am an Open Access Aggregation Officer at CORE (https://core.ac.uk) and also involved in the FOSTER+ (https://www.fosteropenscience.eu/) and OpenMinTed (http://openminted.eu/) projects. My field...

I am currently postdoctoral researcher at the Data Science group having recently submitted my thesis at the Business School, Open University. Previously to joining KMi I was visiting Lecturer at the...
Testimonials
collaborator
"If you are or want to be a brilliant mind, this is where you want to be!"
Valentina Presutti, Institute of Cognitive Science and Technologies, Italy
collaborator
"I cannot imagine going to a conference without experiencing deep scientific conversations with KMiers!"
Raphaël Troncy, EURECOM: Graduate School & Research Center, France
collaborator
"Top location for SW research for decades and going strong!"
Pascal Hitzler, Wright State University, USA
Future Seminars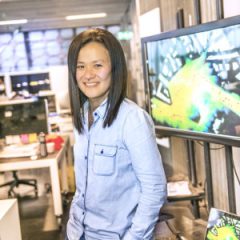 This event will take place on Thursday 15 March 2018
Flora Salim - RMIT University
Effective and efficient techniques for analyzing spatio-temporal sensor data from the urban enviornment are paramount, particularly in addressing these key growth areas in urbanization: human...