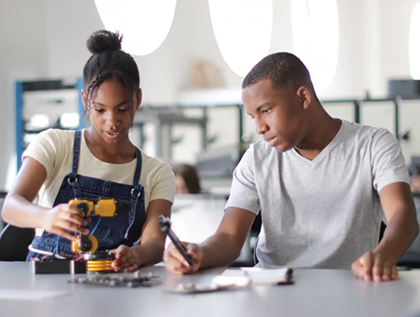 Scholarship
Summer Scholarships for Black Students
2024
The call for applicants to participate in summer 2024 will be open soon. Three bursaries will be awarded. Please email STEM-KMi-Scholarship@open.ac.uk to express an interest and we will send you details when the call is open.
Join our growing group of young Black scholars in computing.
Since 2020, we have provided financial support to Black scholars to enable them to experiment in a cutting-edge field, that can help to change the world. Hot technology topics previously covered include: Misinformation, Robotics, Human Computer Interaction, Blockchain and Knowledge Graphs.
Check out the previous topics from our 2023 cohort below.
As a KMi Scholar, you will receive a non-repayable bursary, mentoring, and support from the researchers, students and technicians who work in our project spaces. The bursary can be used to cover living costs or make up for your loss of earnings during the summer while you carry out a project lasting 9 weeks.
The project will start in July 2024 and may be conducted online, at the Open University campus, or both. The award to each scholar will be £2,700. For 2023 three scholarships were awarded.
The benefits
As KMi Scholars, you will create a story for future generations. The KMi team aim to make Black students feel at home in a computer science research environment and demonstrate what computing careers can offer. A scholarship could be a step forward in your career development. It can provide skills and evidence which can be included in applications to study at university or for employment. You will have a chance to explore and develop technologies in a playful way and contribute your ideas to the project.
Application process
The call for applicants to participate in summer 2024 will open soon.
These were the
four

challenges offered in the 2023 call. The 2023 award winners have completed their projects, and their results can be seen at the bottom of the page.
Key Dates for 2023
The scholarship projects will start on 1 July and run for 9 weeks until 31 August 2023.
How to Apply
In order to qualify for a scholarship, you must meet all the following criteria:
Identify as being from a Black background (see Appendix 1 for full details).
Aged between 16 and 20 years on 31 May 2023.
Have an interest in technology and sufficient time available during the summer.
Be ordinarily resident in the UK.
Be able to provide details of two referees whom we can contact if you are selected for a scholarship (at least one is required from your educational institute, the other can be from a personal referee).
Be available to carry out a project which will start on 1 July 2023 and run for 9 weeks until 31 August 2023
We will be awarding three scholarships and have created a simple application process.
We will ask you to complete an application form.
A description of any interest you have in technology, and what relevant skills or experience you have, if any.
Give an example of when you have worked well in a pair or team or an example of when you have managed your time.
Which of the three challenges appeal to you and why?
What time commitment do you think will be needed to carry out a project, and how will you fit this around other commitments during the 6 to 8 weeks?
Prior knowledge of programming is not essential. We value and promote theoretical diversity in computing.

Click here to download the application form

Click here to read the full terms and conditions
Taking part in a scholarship project will enhance employability, develop computer science skills and/or provide a social benefit.
The award will be made by a panel of OU staff and students. The panel will assess applicants' personal statements. Funds are limited, and no guarantee of an award can be made.
What happens at the end of the project?
The results will be shared with KMi, for example, by uploading a report in the OU's Open Research Online repository (ORO), by depositing data or code in the Open Research Data Online repository (ORDO) or by making a short video to show your findings.
About KMi
KMi is a Computer Science Research & Development Lab. We are a diverse, multi-national bunch passionate about what we do. We treat everyone as a valued team member, be they professors, researchers, post-grad students or other non-academic staff. We believe in research that impacts the real world with real users.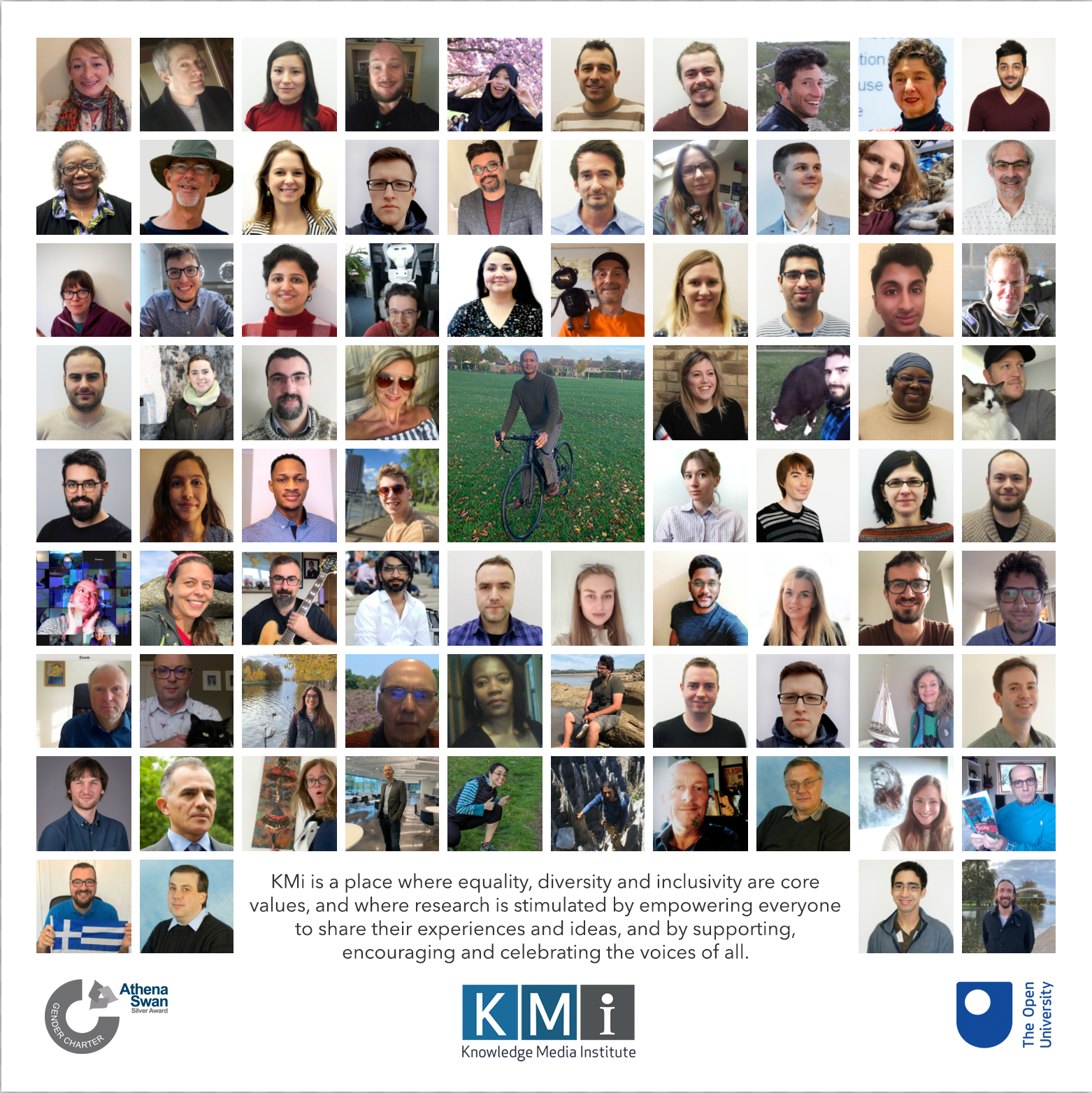 Aims of the Scholarship
Among the visitors who come to KMi every summer, there has been an under-representation of Black people. Black people are also under-represented among computer science post-graduate students. This annual scholarship, aims to improve representation and create greater awareness of computer science research.
Chapter 2 of The Equality Act 2010 allows service providers to take action that may involve treating one group more favourably where this is a proportionate way to help members of that group overcome a disadvantage or participate more fully, or in order to meet needs they have that are different from the population as a whole. This is called 'positive action'.
The call for applicants to participate in summer 2024 will open soon!
Email: STEM-KMi-Scholarship@open.ac.uk to express an interest and receive notice when the call opens