Studentship Information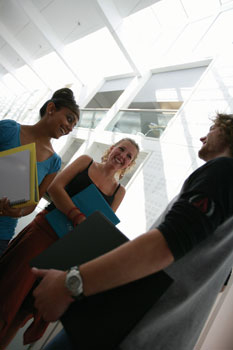 The Knowledge Media Institute (KMi) is home to internationally recognised researchers in semantic technologies, educational multimedia, collaboration technologies, artificial intelligence, cognitive science, and human-computer interaction. KMi offers students an intellectually challenging environment with exceptional research and computer facilities.
KMi sees PhD students as critical to its mission, and awards Studentships (£15,028/year tax free for 2019/20), with no additional fees, compulsory examinations or teaching required. Participation is required in PhD training events and thesis milestones are expected to be met, as specified in the KMi Research Degrees policy. Additional training courses to develop your generic research skills are run across the OU, attendance at which is agreed with your supervisor.
How to Apply
Currently open PhD positions can be found on our vacancies page. Here a number of projects are listed and it is strongly recommended that applicants contact the named contact point for the project of interest to get more information about the project in question. It is also important to read the online prospectus before downloading and completing the appropriate MPhil/PhD application form.
Applications should be sent by email to kmi-phd-recruitment@open.ac.uk (and also please CC the appropriate project leader(s) relating to your chosen topic proposal when submitting applications). Include a covering letter, a research proposal (a maximum of 2,000 words), and a full CV, giving contact details for two academic referees.
All applicants must have a first or upper second class degree from a UK university or the overseas equivalent and ideally a relevant Masters degree. Unless from a majority English-speaking country, non-EEA applicants will require an IELTS score of 6.5 with a minimum of 6 in each element of Listening, Reading, Speaking and Writing. IELTS Certificates are valid for a period of 2-years.
---
PhD Admissions Coordinators:



+44 (0)1908 653591 Dr Anna De Liddo - feel free to contact for advice about doing a PhD in KMi.



+44 (0)1908 655731 Dr Trevor Collin - feel free to contact for advice about doing a PhD in KMi.
General information: Ms Ortenz Rose, KMi Office (Knowledge Media Institute, The Open University, Walton Hall, Milton Keynes, MK7 6AA, UK).



+44 (0) 1908 654774