Greenstone Tales
This event took place on Thursday 11 February 2010 at 14:00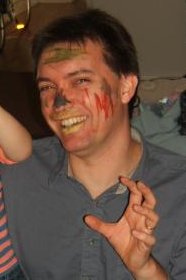 Dr David Bainbridge University of Waikato, New Zealand
The Greenstone software typifies what we have perhaps come to think of as the "classic" form of digital library: Web based with access to content through searching and browsing. Countless digital libraries have been formed with Greenstone since its release on SourceForge in 2000: from historic newspapers to books on humanitarian aid; from eclectic multimedia content on pop-artists to curated First editions of works by Chopin; from scientific institutional repositories to personal collections of photos and numerous other document formats. In this talk I will track the history of the project and reflect on the lessons we have learned over this time. Greenstone is also a highly versatile framework for research. In our lab we are experimenting with forms of digital library software that challenge the status quo. In this talk I will demonstrate a range of these prototypes. In particular:
A realistic books visualizer that brings back many of the advantages of the codex that were lost with the move to accessing content through Web pages and its ubiquitous scroll-bar.
An iPod that has been reprogrammed to become a self-contained portable digital library that has truly vast storage -- available at your fingertips, wherever you are.
Seamless Web editing that removes the barrier between readership and authorship. Edit *any* Web page in the world, and have it stored in your own private digital library for later access.
New Media Systems is...

Our New Media Systems research theme aims to show how new media devices, standards, architectures and concepts can change the nature of learning.

Our work involves the development of short life-cycle working prototypes of innovative technologies or concepts that we believe will influence the future of open learning within a 3-5 year timescale. Each new media concept is built into a working prototype of how the innovation may change a target community. The working prototypes are all available (in some form) from this website.

Our prototypes themselves are not designed solely for traditional Open Learning, but include a remit to show how that innovation can and will change learning at all levels and in all forms; in education, at work and play.
Check out these
Hot New Media Systems
Projects:
List all New Media Systems Projects
---
Check out these
Hot New Media Systems
Technologies:
List all New Media Systems Technologies