News Story
VPH Share Year 3 Review
John Domingue, Friday 30 May 2014 |
Annotate
VPH Share had a very successful third-year review last week in Brussels. VPH Share is focused on providing a cloud environment enabling clinical researchers to develop simulation and decision support workflows to allow raw medical data to be refined into meaningful diagnostic and therapeutic information.

Highlights of the review included three demonstrations by external clinical users, showing how the VPH Share "infostructure" is enabling very powerful new developments in the simulation of aneurisms, vascular stenting and spinal care, with the real possibility of direct clinical applications.

KMi's contribution to the project is in the area of semantic services. By supporting semantic annotation of VPH Share services using the SWEET and iServe technologies, clinical researchers are enabled to discover and create new workflows relevant to their data, and datasets already published on the VPH Share platform.

The reviewers were very impressed with what has been achieved with the project so far, and were excited by the potential value of the cloud infrastructure for clinical research beyond the end of the project.

Year 4 will focus on evaluation of the platform, and sustainability.
Connected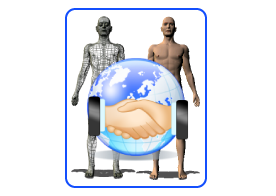 Latest News