Studentship Information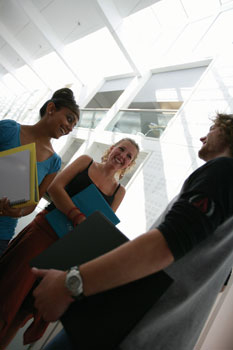 The Knowledge Media Institute (KMi) is home to internationally recognised researchers in semantic technologies, educational multimedia, collaboration technologies, artificial intelligence, cognitive science, and human-computer interaction. KMi offers students an intellectually challenging environment with exceptional research and computer facilities.
KMi sees PhD students as critical to its mission, there are no additional fees, compulsory examinations or teaching required. Participation is required in PhD training events and thesis milestones are expected to be met, as specified in the Research Degrees Regulations. Additional training courses to develop your research skills are run across the OU, attendance at which is agreed with your supervisor.
PhD Studentships in Knowledge Media and Data Science
Available From 1st October 2021
The Knowledge Media Institute (KMi) invites applications for a full-time PhD studentship starting on 1st October 2021. Project proposals are sought in the following areas:
Blockchains and decentralised systems
Computational social science
Data Science and extended intelligence
New media in society
A list of the topics can be found online at http://kmi.open.ac.uk/studentships/vacancies
The studentship is for three years and covers fees, a stipend (£15,285 per annum) and an annual research allowance. The successful candidates will be based at The Open University's campus in Milton Keynes, which combines a friendly and flexible working environment with exceptional research and computing facilities.
How to apply
Please review the list of project topics and get in touch with the named contact to get more information and support with developing your project proposal. For detailed information on how to apply go to http://kmi.open.ac.uk/studentships/apply or contact our studentship support staff, quoting the above reference number.
All applications are assessed as to their quality, fit with The Open University's research priorities and the availability of supervisors in the relevant field.
Closing date: 17:00 (UK time) on Wednesday, 31st March 2021
Interviews: To be held online between Monday 12th and Friday 23rd April 2021