News Story
OUAnalyse among 4 Best Projects for using AI in Education by UNESCO
KMi Reporter, Monday 05 July 2021 |
Annotate
OUAnalyse, The Open University Predictive Learning Analytics system, was selected as a finalist and among the four best projects for the 2020 edition of the UNESCO Prize in education.
Since 2005, UNESCO King Hamad Bin Isa Al-Khalifa Prize for the Use of ICT in Education rewards each year the best projects focused on education. Specifically, it highlights projects using technology to provide learning opportunities for everyone in the world. This is one of the UNESCO Sustainable Development Goals - Leading SDG 4 - Education 2030 (unesco.org) to achieve by 2030. The 2020 theme was dedicated to using Artificial Intelligence (AI) to enhance the continuity and quality of learning.
OUAnalyse was first selected in the national round as a representative from the UK and shortlisted among other 73 applications worldwide. OUAnalyse was chosen together with "One College Student Per Village" by the Open University of China, collaborative education platform "ViLLE" by the Centre for Learning Analytics, University of Turku, Finland and "eShuri Platform" by the Data Systems Ltd, Rwanda.
OUAnalyse, a university Predictive Learning Analytics project, was set up at Knowledge Media Institute (KMi) in 2013 and is a result of fruitful collaborative efforts of KMi, Institute of Educational Technology (IET), Data and Student Analytics (DSA) and all the university faculties. Every week it provides machine learning-powered predictions of whether students will submit their assignments via a dashboard application. This dashboard is available to all the staff responsible for the module production, including tutors, staff tutors and module chairs.
Dr Christothea Herodotou from IET and Dr Martin Hlosta from KMi commented on the story published by UNESCO. Dr Herodotou highlighted the strong body of evidence that showed the positive impact of using OUAnalyse on student performance in the evaluation of 1,222 teachers and 23,180 students in 231 modules. Dr Hlosta revealed the current direction of using OUAnalyse to understand and reduce the existing awarding gaps for Black, Asian and minor ethnics groups and also students coming from low socio-economic areas.
Connected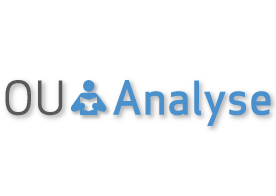 Latest News