News Story
Vice-Chancellor endorses the EAI Dashboard
KMi Reporter, Thursday 17 November 2022 |
Annotate
The Vice-Chancellor has issued a video message to Associate Lecturers via internal channels to explain the importance of using the Early Alert Indicators Dashboard (EAID). In his video message, Tim Blackman said: "We want to highlight to you the Early Alert Indicators Dashboard and, if you are not using it, ask you to use it"
Powered by Machine Learning methods, the dashboard, which integrates OU Analyse and the Student Probability model, focuses on the early identification of students at risk of failing, helping Associate Lectures, Staff Tutors, Student Support Teams, Module Chairs, and Module Teams, to proactively monitor students and intervene early in the process. The wide body of research behind this tool indicates how proactive use helps to increase student retention and to reduce the OU's existing awarding gaps.
The dashboard was envisioned more than a decade ago by the now emeritus professor Zdenek Zdrahal. Led by the Knowledge Media Institute (KMi), the EAI Dashboard was refined for more than a decade in collaboration with Machine Learning and Data experts, pedagogical experts from the Institute of Educational Technologies (IET), Associate Lectures, Staff Tutors, Module Chairs, students, and other relevant university stakeholders, being a fantastic example of collaborative research put into practice.
The dashboard is accessible internally only via the OU Analyse website (https://analyse.kmi.open.ac.uk/AnalyseDashboard), where you can also find relevant research about the tool. Users of the Dashboard can access documentation, videos, training sessions, and a forum, created and monitored by the teams' AL champions (https://learn3.open.ac.uk/course/view.php?id=300628). The EAID team advises users to watch out for the new newsletter in the New Year, which will include regular stories from our users, new features, and additional support.
Related Links:
Connected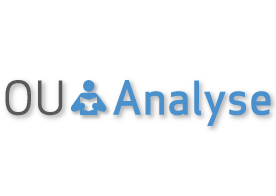 Latest News