Full Seminar Details
Prof Simon Buckingham Shum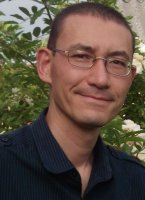 Integrating Tools to Support Virtual Presence, Messaging, Meeting Replay, and Task Coordination
This event took place on Monday 03 November 2003 at 12:30
The CoAKTinG project (Collaborative Advanced Knowledge Technologies in the Grid: CoAKTing) started in June 2002 and runs for 24 months as a 'satellite' project to the 6 year Advanced Knowledge Technologies IRC. It is funded by the UK e-Science Programme. Its objective is to advance the state of the art in collaborative mediated spaces for distributed e-Science through the novel application of advanced knowledge technologies, such as:

Ontologies to enhance multi-modal and multi-media time phased group discussions and problem solving

Knowledge-based planning and task support to enhance issue-based process/activity discussions

Scholarly discourse and argumentation to enhance collaborative meeting structures

Presence and visualisation to enhance group peripheral awareness at a distance

This presentation will summarise progress in supporting e-Science collaboration by integrating and demonstrating the utility of tools and techniques developed at the three partner institutions.