Alumni Member
Beatriz Rocha (Alumni)
Visiting Undergraduate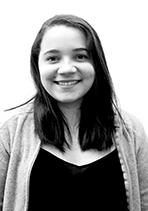 Ana Beatriz, a Bachelor of Law graduate from the Catholic University of Salvador - UCSAL / BA - Brazil, is a visitor to the Knowledge Media Institute (KMi-OU), Milton Keynes / England, under the supervision of Dr. Alexandra Okada From March 2017 to January 2018, acting as international researcher of the Scientific Committee of the COLEARN Open Research Network (KMi / OU).
Her research visit focuses on "Responsible Research and Innovation in Higher Education for Gender and Ethics", referring to the European ENGAGE project led by Dr. Okada, being relevant for collaborations in the field of educational technology and interdisciplinary studies in the Brazil and the United Kingdom.
She held a cultural exchange with Stanley-Boyd High School in Stanley-Wisconsin / USA from 2014 to 2015.
Her research interests include the areas of technology, e-learning, knowledge mapping, collaborative networks, ethics and law.
Publications