Alumni Member
Heliomar Lima (Alumni)
Visiting Consultant of FAO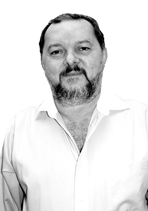 Dr. Heliomar Lima holds a Bachelorís, Masterís and Doctoral Degree in electronic engineering from the Federal University of Rio de Janeiro (UFRJ). He is a postdoctoral researcher at the ePlanning Lab at the University of Lisbon was well as at the Knowledge Media Institute (KMi-OU) in 2014 under the supervision of Dr. Okada.
He is currently a participant of the COLEARN Open Research Network (KMi/OU). His research interests comprise the areas of ICT for improving social development and participatory citizenship.
Dr. Lima also holds large experience in electric engineering with emphasis on telecommunication systems such as satellite data communication, performance analysis, communication error and protocol recuperation, connectivity solutions for rural areas and digital inclusion.
His publications comprises several journal and conferences papers disseminated in both national and international events.