Alumni Member
Lia Carolina Rossi (Alumni)
Visiting Research Student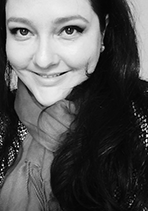 Lia Carolina is a visiting student from Sao Paulo, Brazil, who holds a BA in Communication with specialization in journalism and mass communication research at Cásper Libero University .
She has worked for more than ten years in Brazil as a journalist in television network channels in Sao Paulo and as a freelancer director, reporter and scriptwriter of corporate videos and presentations for multinational companies.
During the last four years, she worked in Educational Technology at Santillana, an educational publisher that is a leader in the Latin American textbook market. There she became project manager for UNO International, an iPad-based educational system, coordinating external and internal production teams and participating in planning, budgeting, and development of educational content and apps.
After falling in love with educational technology, she realized that training teachers to use technology in the classroom is a key factor for implementing innovation. Her research interests focus on understanding the needs of educators and identifying opportunities for them to innovative through technologies.
She also believes that high quality content and interesting educational design for interactive use can help learners for better understanding. Deeply interested in how digital will transform the educational field, Lia is currently looking for innovative technologies to accomplish the 21st Century skills as a visiting researcher at the Knowledge Media Institute (KMi) - Open University.
Publications
Okada, A., Rossi, L.C. and Costa, A.M. (2015) Online argumentative maps for facilitating international debates with experts at large scale, EC-TEL The 10th European Conference on Technology Enhanced Learning