Alumni Member
Mari Suárez-Figueroa (Alumni)
Visiting Reseacher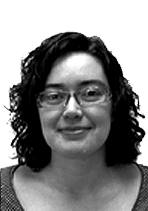 My name is Mari Carmen Suárez-Figueroa and I belong to the Ontological Engineering Group of the Artificial Intelligence Department of the Computer Science School at Universidad Politécnica de Madrid (UPM).
I graduated in Computer Science from UPM in 2001. I teached at the Computer Science School at UPM from January 2002 until March 2002).
I am currently a PhD student in Artificial Intelligence in UPM.
My research activities include methodologies for ontology development, ontology development tools, ontology evaluation, and the Semantic Web. I am currently participanting at the NeOn project (IST-2005-027595) and at the Knowledge Web Network of Excellence (FP6-507482). I have also participated at the OntoGrid project (FP6-511513), at the Esperonto project (IST-2001-34373) and at the OntoWeb thematic network (IST-2000-25056).
I was a research visitor at Department of Computer Science (University of Liverpool).
Keys: Semantic Web, Ontologies, Methodologies for building ontologies, Ontology Evaluation, Knowledge Management