Alumni Member
Silvio Peroni (Alumni)
Contractor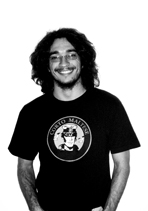 I was a Intern in KMi from April to September 2008.
I'm working on the Open Knowledge project (http://www.openk.org). My current work subject concerns the dedection of key concepts of an ontology through three different approaches: density evaluation, natural category identification, best coverage discovery.
My supervisors at KMi were Dr. Mathieu D'Aquin and Prof. Enrico Motta.
Keys: Semantic Web,Ontologies
Publications
Mulholland, P., Daga, E., Daquino, M., Díaz-Kommonen, L., Gangemi, A., Kulfik, T., Wecker, A., Maguire, M., Peroni, S. and Pescarin, S. (2021) Enabling multiple voices in the museum: Challenges and approaches, Digital Culture & Society, pp. (In Press)
Daga, E., Asprino, L., Damiano, R., Agudo, B., Gangemi, A., Kuflik, T., Lieto, A., Marras, A., Pandiani, D., Mulholland, P., Peroni, S., Pescarin, S. and Wecker, A. (2021) Integrating citizen experiences in cultural heritage archives: requirements, state of the art, and challenges, pp. (In Press)
Bruni, L., Daga, E., Damiano, R., Diaz, L., Kuflik, T., Lieto, A., Gangemi, A., Mulholland, P., Peroni, S., Pescarin, S. and Wecker, A. (2020) Towards Advanced Interfaces for Citizen Curation, Workshop on Advanced Visual Interfaces and Interactions in Cultural Heritage (AVI2CH 2020), Ischia, Italy
Gonzalez-Beltran, A., Osborne, F., Peroni, S. and Vahdati, S. (2019) Editorial: Special Issue on Scholarly Data Analysis (Semantics, Analytics, Visualisation) Editorial: Special Issue on Scholarly Data Analysis (Semantics, Analytics, Visualisation), 2, pp. 177-179, IOS Press
Gonzalez-Beltran, A., Osborne, F., Peroni, S. and Vahdati, S. (2019) Special Issue: Scholarly Data Analysis (Semantics, Analytics, Visualisation) Special Issue: Scholarly Data Analysis (Semantics, Analytics, Visualisation), eds. Alejandra Gonzalez-Beltran,Francesco Osborne,Silvio Peroni,Sahar Vahdati, 2, IOS Press