Alumni Member
Sofia Angeletou (Alumni)
Research Associate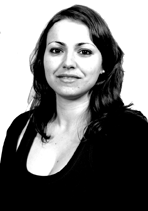 I started my PhD in KMi in October 2006.
I am interested in applications integrating the Web2.0 content with the Semantic Web structure. My research explores folksonomies, and ways to enrich them with semantics in order to enhance their content retrieval through searching and browsing.
My supervision team consisted of Dr. Marta Sabou, Prof. Enrico Motta and Dr. Lucia Specia. I was also a member of the NeOn working group.
Folksonomies:
http://www.vanderwal.net/folksonomy.html
Ontologies:
http://www-ksl.stanford.edu/kst/what-is-an-ontology.html
Keys: Semantic Web, Web2.0, Ontologies, Folksonomies
Projects
Technologies
Publications
Rowe, M., Fernandez, M., Angeletou, S. and Alani, H. (2013) Community analysis through semantic rules and role composition derivation, Journal of Web Semantics: Science, Services and Agents on the World Wide Web, 18, 1, pp. 31-47
Tech Reports
Semantic Enrichment of Folksonomies
Techreport ID: kmi-08-06
Date: 2008
Author(s): Sofia Angeletou