The topics associated to the KMi publications listed in this page were automatically generated using the CSO Classifier, a solution developed by the SKM3 team in KMi. This technology has also been adopted by Springer Nature and is used routinely by them to generate automatically the metadata for all Computer Science conference proceedings they publish.
Showing all 12 Publications linked to the forge project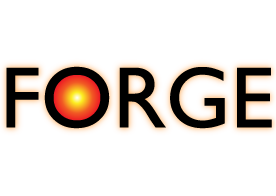 Forging Online Education through FIRE
Forging Online Education through FIRE (FORGE) is a project bringing the FIRE and eLearning worlds together. FORGE will align FIRE (Future Internet Research and Experimentation) with the ongoing education revolution. This project will specify development methodologies and best practices for offering FIRE experimentation facilities to learners and to the learning community in general. FORGE relates to communications and IT, as well as to other disciplines including the physical and social...
---
Serrano, M., Isaris, N., Schaffers, H., Domingue, J., Boniface, M. and Korakis, T. (eds.) (2017) Building the Future Internet through FIRE, River Publishers
Mikroyannidis, A., Collins, D., Tranoris, C., Denazis, S., Pareit, D., Gerwen, J., Moerman, I., Jourjon, G., Fourmaux, O., Domingue, J. and Marquez-Barja, J. (2017) FORGE: An eLearning Framework for Remote Laboratory Experimentation on FIRE Testbed Infrastructure, in eds. Serrano, M., Isaris, N., Schaffers, H., Domingue, J., Boniface, M. & Korakis, T., Building the Future Internet through FIRE, pp. 521-559, River Publishers
Mikroyannidis, A., Gomez-Goiri, A., Smith, A. and Domingue, J. (2017) Online Experimentation and Interactive Learning Resources for Teaching Network Engineering, IEEE Global Engineering Education Conference (EDUCON), Athens, Greece, IEEE Education Society Publications
Jourjon, G., Marquez-Barja, J., Rakotoarivelo, T., Mikroyannidis, A., Lampropoulos, K., Denazis, S., Tranoris, C., Pareit, D., Domingue, J. and DaSilva, L. (2017) FORGE Toolkit: Leveraging Distributed Systems in eLearning Platforms, IEEE Transactions on Emerging Topics in Computing, 5, 1, pp. 7-19
Kravcik, M., Mikroyannidis, A., Pammer, V., Prilla, M. and Ullmann, T. (eds.) (2016) Proceedings of the 6th Workshop on Awareness and Reflection in Technology Enhanced Learning, 11th European Conference on Technology Enhanced Learning: Adaptive and Adaptable Learning (EC-TEL 2016), Lyon, France, 1736, pp. 1-65, CEUR Workshop Proceedings
Mikroyannidis, A., Domingue, J., Pareit, D., Gerwen, J., Tranoris, C., Jourjon, G. and Marquez-Barja, J. (2016) Applying a methodology for the design, delivery and evaluation of learning resources for remote experimentation, IEEE Global Engineering Education Conference (EDUCON), Abu Dhabi, UAE, IEEE Education Society Publications
Domingue, J., Mikroyannidis, A., Gomez-Goiri, A., Smith, A., Pareit, D., Gerwen, J., Tranoris, C., Lampropoulos, K., Jourjon, G., Fourmaux, O., Rahman, M., Collins, D., Marquez-Barja, J., Blumm, C., Kaminski, N., DaSilva, L., Sutton, P. and Gomez, I. (2015) Forging Online Education through FIRE: iPad Edition, The Open University
Mikroyannidis, A., Gomez-Goiri, A., Domingue, J., Tranoris, C., Pareit, D., Gerwen, J. and Marquez-Barja, J. (2015) Deploying learning analytics for awareness and reflection in online scientific experimentation, Workshop: 5th Workshop on Awareness and Reflection in Technology Enhanced Learning (ARTEL) at 10th European Conference on Technology Enhanced Learning: Design for Teaching and Learning in a Networked World (EC-TEL 2015), Toledo, Spain, eds. Kravcik, M., Mikroyannidis, A., Pammer, V., Prilla, M. and Ullmann, T., 1465, pp. 105-111, CEUR Workshop Proceedings
Kravcik, M., Mikroyannidis, A., Pammer, V., Prilla, M. and Ullmann, T. (eds.) (2015) Proceedings of the 5th workshop on awareness and reflection in technology enhanced learning, 10th European Conference on Technology Enhanced Learning: Design for Teaching and Learning in a Networked World (EC-TEL 2015), Toledo, Spain, 1465, pp. 1-111, CEUR Workshop Proceedings
Mikroyannidis, A., Domingue, J., Third, A., Smith, A. and Guarda, N. (2015) Online Learning and Experimentation via Interactive Learning Resources, 3rd Experiment@International Conference (exp.at'15), Ponta Delgada, Sao Miguel Island, Azores, Portugal, IEEE Computer Society Publications
Marquez-Barja, J., Jourjon, G., Mikroyannidis, A., Tranoris, C., Domingue, J. and DaSilva, L. (2014) FORGE: Enhancing elearning and research in ICT through remote experimentation, IEEE Global Engineering Education Conference (EDUCON), Istanbul, Turkey, IEEE Education Society Publications