sense4us project full details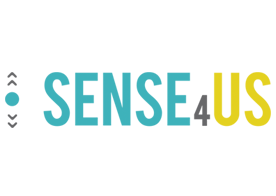 Champion: Harith Alani
KMi Director





Participant(s):Miriam Fernandez, Elisabeth Cano, Hassan Saif
Similar Projects:WeGov, ROBUST
Timeline:01 Oct 2013 - 01 Oct 2016
Share:
tools and techniques to enable policy makers to gather, integrate, and analyse policy-related discussions
The objective of the EU FP7 Sense4us project is to advance policy modelling and simulation, data analytics and social network discussion dynamics, providing economic and social benefits at all governmental levels across Europe. The project will provide tools enabling policy makers to find and select relevant information; link and homogenise the data; model policy in terms of constraints and intent; validate the policy; discover and incorporate views from NGOs and public; predict social impact of policy; provide decision support; and provide understandable visualisation.
Partners
IT INNOVATION CENTRE
UNIVERSITY KOBLENZ-LANDAU
GOVERNMENT TO YOU
GESIS - LEIBNIZ-INSTITUTE FOR THE SOCIAL SCIENCES
HANSARD SOCIETY LTD STOCKHOLM UNIVERSITY .
News
---
---
---
Publications
Cano, A., Saif, H., Alani, H. and Motta, E. (2016) Semantic Topic Compass--Classification Based on Unsupervised Feature Ambiguity Gradation, 13th International Conference, ESWC 2016, Crete, Greece
Taylor, S. and Fernandez, M. (2015) An Information Acquisition and Analysis Toolkit for Policy Makers in Governmental and Legislative Institutions, eChallengues 2015, Vilnius, Lithuania