hub4ngi project full details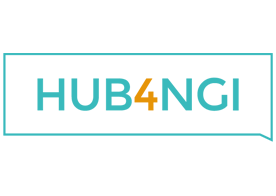 Champion: John Domingue
Professor of Computer Science







Participant(s):Aba-Sah Dadzie, Chris Sanders, Alexander Mikroyannidis
Timeline:01 Jan 2017 - 31 Dec 2018
Share:
HUB4NGI
Unlocking the value of the Next Generation Internet
HUB4NGI is the first Coordination and Support Action dedicated to transforming the Next Generation Internet initiative into an increasingly dynamic, collaborative, vibrant and participatory Research and Innovation Ecosystem.
HUB4NGI aims to offer a collaborative platform capable of effectively supporting and coordinating activities across the whole NGI context by combining knowledge, tools and processes to reach and engage top-notch Internet researchers and innovators.
The selected and carefully designed activities HUB4NGI will pursue have been organised around 5 main work packages: the NGI APPROACH, the NGI GUIDE, the NGI CATALYST, the NGI BOOST and the NGI FIGHTER. By close interaction of these activities, HUB4NGI is covering strategy and operation by:
Defining a methodology for collecting and assessing the information in the NGI domain.
Grounding the NGI vision, strategy and plans.
Accelerating the NGI programme implementation.
Running community building and outreach activities.
HUB4NGI will ultimately help the whole NGI community to grow and liaise with relevant European, international, national and regional initiatives.
News
---
---