euclid project full details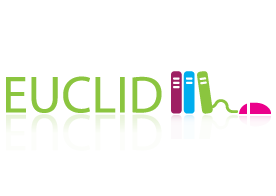 Champion: John Domingue
Professor of Computer Science







Participant(s):Alexander Mikroyannidis, Ning Li, Richard Power, Jacek Kopecky, Paul Mulholland
Timeline:01 May 2012 - 30 Apr 2014
Share:
EdUcational Curriculum for the usage of LInked Data
As the popularity of Linked Data increases, so does the demand for data practitioners possessing the skills and knowledge necessary to understand its main concepts, and apply the associated technologies for data-analytics purposes. The availability of such expertise is a driver for the sustainable future development of the Linked Data community. It can be achieved through targeted knowledge transfer, in particular through easily accessible training programs addressing the real needs of data practitioners, as proposed in the EUCLID project.
EUCLID will facilitate professional training for data practitioners aiming to use Linked Data in their daily work, through a curriculum implemented as a combination of living learning materials and activities (eBook series, webinars, face-to-face training), validated by the user community through continuous feedback.
Partners
News
---
---
---
---
---
Publications
Mikroyannidis, A., Domingue, J., Maleshkova, M., Norton, B. and Simperl, E. (2016) Teaching Linked Open Data Using Open Educational Resources, in eds. Mouromtsev, D., d'Aquin, M., Open Data for Education: Linked, Shared, and Reusable Data for Teaching and Learning, pp. 135-152, Springer International Publishing
Mikroyannidis, A., Domingue, J., Maleshkova, M., Norton, B. and Simperl, E. (2014) Developing a Curriculum of Open Educational Resources for Linked Data, 10th annual OpenCourseWare Consortium Global Conference (OCWC), Ljubljana, Slovenia
Simperl, E., Acosta, M., Dimitrov, M., Domingue, J., Haase, P., Maleshkova, M., Mikroyannidis, A., Norton, B. and E.Vidal, M. (2014) EUCLID: EdUcational Curriculum for the usage of LInked Data, 11th European Semantic Web Conference (ESWC), Anissaras, Crete, Greece, Springer