institute of coding project full details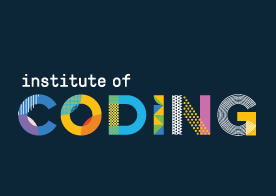 Champion: John Domingue
KMi Director







Participant(s):Jane Whild, Manoharan Ramachandran, Audrey Ekuban, Daniel Woodyer, Michelle Bachler, Kevin Quick
Timeline:25 Jan 2018 - 31 Jan 2022
Share:
Unlock your talent
The Institute of Coding is a collaboration between the UK Government, more than 60 universities, big players in the tech industry, SMEs, industry groups, experts in non-traditional learning and professional bodies. Led by the University of Bath, the world-leading consortium aims to strengthen the UK's position globally in computing and IT, address the UK digital skills gap and create opportunities for more computer science graduates. Funding is comprised of £20 million from the Higher Education Funding Council for England (HEFCE) and a further £20 million in matched funding from industry.
Its work will cover five broad areas: University Learners (led by the OU), the Digital Workforce, Digitalising the Professions, Widening Participation, and Knowledge Sharing and Sustainability.
For university students, the Institute will deliver a range of industry-accredited courses that include top quality computer science teaching alongside the business skills, interpersonal skills and real-world experience required for success in the digital economy. Learners in industry will benefit from courses designed to ensure that their skills are up-to-date. The Institute will also work with outreach and community groups, schools and FE colleges to encourage a larger number of currently under-represented groups into digital education.
News
---
---
---
---
---
Publications
Mikroyannidis, A., Third, A., Chowdhury, N., Bachler, M. and Domingue, J. (2020) Supporting Lifelong Learning with Smart Blockchain Badges, International Journal on Advances in Intelligent Systems, 13, pp. 163-176
Chowdhury, N., Ramachandran, M., Third, A., Mikroyannidis, A., Bachler, M. and Domingue, J. (2020) Towards A Blockchain-based Decentralised Educational Landscape, The 12th International Conference on Mobile, Hybrid, and On-line Learning (eLmL 2020), Valencia, Spain